November 12thRiyaz's determination pays off.
Never give up is a motto that is constantly shared in t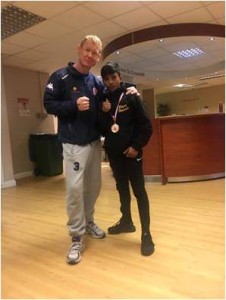 he gym of St Pauls Boxing Academy. Riyaz Hussain epitomises such
belief. He keeps moving forward and despite some hurtful decisions during his amateur career he has always remained positive and true to himself.
At the weekend Riyaz won a unanimous decision. "It's the best ive seen him box" said his coach Kevin Docwra. The Academy wants to say "Thanks" to Yorkshire for picking him to represent them. Their trust in his ability paid off big time.