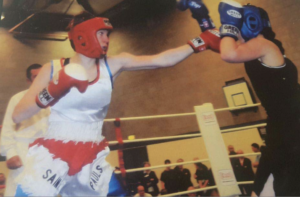 The horrendous feeling of being bullied is something Katie Guiller knows only too well. As a child, it left her struggling to find her place. 
But unlike so many bullied children who become withdrawn, Katie fought back. It was by retaliating that her life started heading in the wrong direction and she started getting into trouble. 
"Mum left us when we were small children," she recounts. 
"Dad brought us up on his own. He had to come out of work which made things financially difficult so having the things other children had at school wasn't always possible.
"I built up so much resentment. I was angry at everything and everyone. I was a walking timebomb."
Katie admits she made a lot of bad decisions and did things that could have wrecked her future. She had reached a crossroads and needed somehow to get back on the right track. 
She said: "I felt the world owed me something due to feeling inferior to others. I always wanted what others had But when I got to 17, I realised that if I messed up now, I would mess up for good.
"So, in 2007 when the floods hit Hull, I found myself at the door of St Paul's Boxing Academy about to go in.
"I didn't come to boxing through the normal route – watching Muhammad Ali when I was a kid and thinking 'I want to be like that'. 
"I was fighting a lot and I needed some way of channelling my behaviour. Boxing seemed like it might work."
Training gave Katie a focus and the resentment that had built up over the years began to subside. Her behaviour improved as she found something she was good at and that gave her self-esteem. 
In fact, Katie went on to have an incredibly successful career in the ring, become the two times national champion. 
But the biggest changes were brought about by working with the coaches at staff at St Paul's, particularly head coach, Mike Bromby.
"Mike became like a father figure," Katie said.
"He taught me the world doesn't owe my anything but more importantly, how to deal with that. He taught me to channel my anger and put it into my boxing, not fighting outside the gym.
"But more than that, he was there for me if I needed to talk. He would ask how he could support me. That will stay in my heart forever."
Katie and Mike have remained close friends since and although she is now a coach at a different gym, she recalls her experiences at St Paul's with deep affection. 
"The club is a lifeline for so many," she said.
"It's a place people give their time and care for free. When you think no one cares but you walk through the doors to find people who do, that is a very special feeling. It was a saviour for me."