A date for your diary, Saturday 10th December
SATURDAY FIGHT NIGHT-
Head Coach, Mike Bromby is proud to confirm the next chapter of the development of St. Paul's Boxing Academy is unfolding as some of the talented amateur boxers who have trained and developed at the gym are now embarking on their professional boxing careers.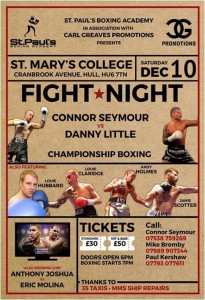 "These young boxers have dedicated their time and commitment to reach this level and we hope all our club members will come and support them at this upcoming event", said Mike.
Featuring: Connor James Seymour v Danny Little.
This is a Championship Contest; a 50/50 fight with the winner taking bragging rights and contention for the Central Area Title.
Rising Stars- Louis Scott Claridge : Scarborough's Jamie Scotter: Andy Holmes & Beverley's Louie Sammie Hubbard!
Also live screening Anthony Joshua v Eric Molina
Bar/ Refreshments will be available.
Then why not carry on the festivities on nearby Newland/ Princess Avenue.
A special thanks to –
Gary Wilkinson of 35 Taxis.
Rob Langton of MMS Ship Repair Ltd.
Alex Hall : Halltech: Bambu Community.
Tickets are available from the boxers, but hurry as there is limited availability.