January and February in a Nutshell
The 13 Air Assault Regiment drop in to St Paul's for additional training Sessions
Following a number of training sessions at St Paul's Gym during February the 13 Air Assault Regiment took on a selection of boxers from Yorkshire in a thrilling night.
The venue of Normandy Barracks provided an atmospheric backdrop to the evening.
Head Coach, Mike Bromby said "It was a pleasure working with such dedicated boxers and helping them with their fitness routines".
St Paul's Monthly Prize Draw
Following the successful launch of the Academy's monthly prize draw the January draw took place in front of parents. The winning number was bonus ball number 86. The winner of the first £100 was Sarah Sellers.
St Pauls fundraiser, Emma Robinson "The first draw has been a success as we also raised £146 for new equipment for the gym"  Head Coach, Mike Bromby said a big thank you to everyone taking part and wished them luck for the February draw. He said "Such support is priceless".
St Paul's Boxing Academy Skills Afternoon
The young guns of St Paul's got the chance to show off their skills to their parents and friends during a Sunday afternoon. Watched by their families the youngsters performed basic skills along with shadow and stance.
The atmosphere was great and everyone who attended had a fun afternoon. All the youngsters were presented with medals by Mike Bromby.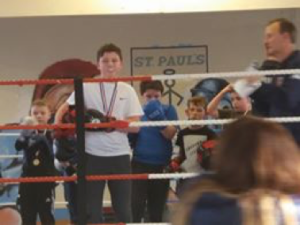 Top class sparring!
Scarborough's Jamie Scotter preparing for his 3rd professional fight on Saturday 29th April in Hull and Kyle O'toole getting ready for next week's Yorkshire select vs The Army tonight had great sparring with Norway international Martin Larsen who is soon to be competing in the European championship qualifiers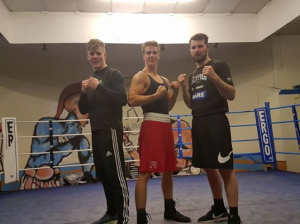 The Overtime Crew! And the Strength and Conditioning Crew!
Here are photos of just some of the dedicated members of St Paul's Boxing Academy taking a bow at the end of a full on training sessions at the Gym. This is what makes the gym what it is. Here we have members of all ages, levels and experience working together to improve and not only keep fit but assist in their health and wellbeing.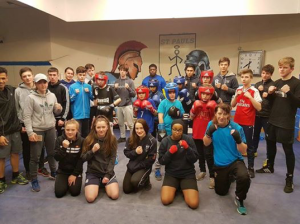 Mike Bromby meets Charles and Camilla
During the Royal visit in February Mike Bromby met Charles and Camilla for tea and sandwiches. Mike said "It was a great honour to meet them both. They were really easy to talk to and knew a bit about amateur boxing"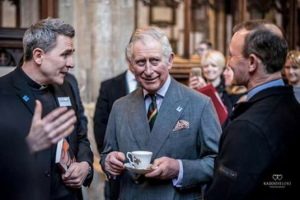 Humber Bridge Walk Raises Money for St Paul's
Massive well done to all St Pauls young guns who took on the full force of the weather that was thrown at them they powered on through rain and snow to complete their task. Precious funds were raised for new equipment. St Paul's fundraiser, Emma Robinson said "I'm so proud of each and every young gun. They have done themselves and their families proud".