Friday 21st April
Harvey Lambert gains valuable experience
A great performance against the number 2 seeded boxer yesterday by Harvey Lambert dropping a split point's decision. At 19 he has cemented his place as one of the Elite boxers in this country and sure to have a big future in this sport. Paul Kershaw said "We are all proud of what Harvey has achieved". Harvey said "I am disappointed but lost to a good kid; I will be back training hard again for my next fight".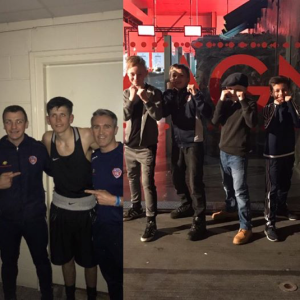 St Pauls also had had 3 future stars out doing skills bouts last night in the same arena after the elite championships had finished. Shane Smith, Luke Dixon, and Lewis Wardrobe put on a great show of skills and talent proving they are names to look out for in the future. Jackson Fox came along to support and find out what it's all about for when he's old enough.
Onwards and upwards for St Pauls Boxing Academy.